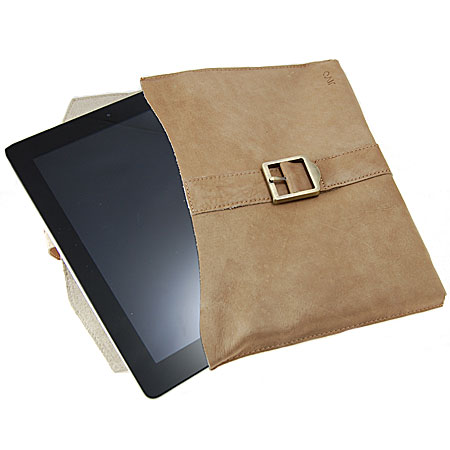 One of the most professional looking cases goes to the Jivo Executive Buckle Case.  I bring it with me to meetings and get asked about it all the time since it resembles a mini briefcase or satchel and I feel like Indiana Jones! (Hangover reference) It's nice and slim and doesn't bulk up my iPad 2 and also fits the bulkier iPad 1.  What I like most about it is the ability to use my existing smart cover.  I spent $40 bucks for that thing and I'd hate to remove it like other cases make me do.  With the Jivo you will want a protective cover because while the Jivo looks great, it will not protect your iPad from falls.  The case is made from Brazilian Buffalo leather and smells terrific!  No seriously, I take a whiff every time I can.
You can clearly see the stitching and detail put into the Jivo Executive.  You clasp the case with a buckle which I'm still torn on the concept.  On the one hand, I like the idea of knowing my iPad is secure within the case.  On the other hand, the convenience is gone.  To take your iPad out you have to open up the buckle and the same to close it.  I think for my personal use I would have preferred a magnetic closure but that's just me.  With a magnetic closure you can quickly access your iPad but loose the security if you hold the case upside down.  To each their own.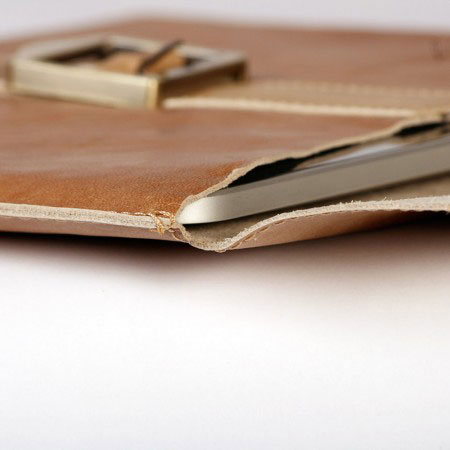 The inside lining is soft and non-abrasive which makes sure nothing will damage your iPad while inserting and removing it.  The case can also take a beating.  When my iPad 2 is not inside, it's usually tossed around on the floor and couch but still stay true to it's form.  All in all it's an elegant looking case.
I like the quality put into the Jivo case and would recommend it to anyone looking for a slim case and was very careful with their iPad.  Like I mentioned before, it does not provide security from the falls and bumps of your device, but it will prevent nicks and scratches.  In other words, this case isn't for teenagers or construction workers.  Although, it would make for a great commercial.  "Jivo Executive… works even for janitors".
If you're interested in this case or other iPad Cases, check out MobileFun.