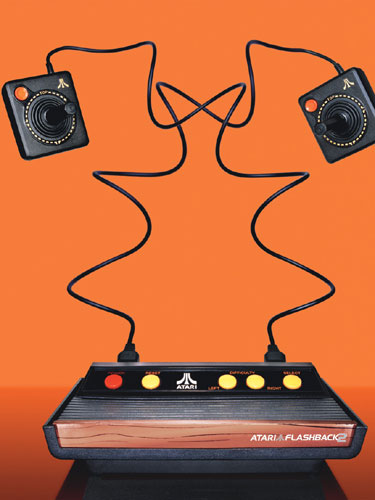 A few years ago I was given an Atari Flashback unit for my birthday. It was a cute little device that resembled an Atari 7800. I enjoyed it, but how many of us actually had an Atari 7800 in the 80's? By the time the 7800 was released, everyone had already moved on either to the Commodore 64 platform or Apple IIC or Atari Home Computers. The AF1 however was a hit in sales however, selling over 500,000 units.
Overall, Atari fans were not happy, the console was overly tiny, used poor 7800 styled sticks, and used an "NES-on-a-chip" for the actual hardware with the original 2600 games ported over. The games suffered, and were hard pressed to truly represent the original 2600 experience let alone the 7800.

I was thrilled to see that Atari released a follow up called the Atari Flashback 2 and it resembles the unit we all had or borrowed, the Atari 2600.Atari execs, convinced with the high sales of the AF1, went along a created a true old school masterpiece. The AF2, is a plug and play unit featuring a replica 2600 console as well and two exact replica joysticks. (If you own the original joysticks/paddles, you can use them as well!)
What gamers will be most interested in, its what featured under the hood. The unit uses an actual 2600 – on chip which allows for authentic execution of 2600 code. No emulation or porting this time, just real 2600 fun!
The AF2 includes 40 classic games that will satisfy even the oldest of old schoolers. Here is a full list:
3D Tic-Tac-Toe
Adventure, Adventure II, Aquaventure, Arcade Asteroids, Arcade Pong, Asteroids Deluxe, Atari Climber
Caverns Of Mars, Centipede, Combat, Combat 2
Dodge'm
Fatal Run, Frog Pond
Hangman, Haunted House, Human Cannonball
Lunar Lander
Maze Craze, Millipede, Missile Command
Off the Wall, Outlaw
Pitfall
Quadrun
Radar Lock, Return To Haunted House, River Raid
Saboteur, Save Mary, Secret Quest, Space Duel, Space War
Thrust
Video Checkers, Video Chess
Wizard
Yars' Return, Yars' Revenge
(Kudos to Activision, for licensing Pitfall and River!)
The fun doesn't stop here, Atari realized the need for fans to want to play their original 2600 carts since AF2 runs the same code.  Adding a cart slot would've have been a logistical nightmare however. Therefore, the tech savy folks can open the unit and you'll find it's all set up for people to hack in their own cartridge ports!
Here is Cnet's Review of the Atari Flashback 2: