Oh boy, just looking at the picture above gives me goose bumps! This is the system that started it all. The Atari 400 home computer system.  It had 4 controller slots, a cartridge slot and a membrane keyboard.   Playing Pacman, Donkey Kong and Q-bert on this unit felt like playing it in the arcade.  Most importantly, it was my first exposure to programming via the BASIC language. We would get manuals and write up test programs. Great learning experience for us in our youth.
I also enjoyed the box art of the games. You can tell that they spent a good amount of money and time at the time to create a masterpiece on the cover of the boxes.  That is more than what I can say about a few of the games that are released these days.  I was not impressed with my last two purchases, Street Fighter IV and Punchout's box art was pretty awful in my opinion.
A year or so later, we picked our first tape drive or program recorder. The Atari 410..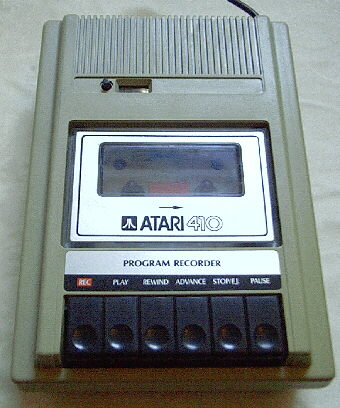 We would buy games in cassette tape format and play them on the Atari 400. It was our first disk drive if you will. It was mostly used for recording computer programs that one would write utilizing the BASIC language. The Atari 400 did not have a big enough hard drive to satisfy the recording required.   This is the system that introduced the PerezStart.com Family into technology. All of us have chosen to work in a technology related field and we have this system to thank. It opened up our imagination and motivated us to pursue the interest of computers at a very young age. I remember my dad telling me that he purchased this unit with a Christmas bonus he received from his job. Thanks dad not only thinking of your children, but for selecting a "computer" for christmas. You planted the seed for your children's future!
Which computer system did you own in the 80's? Do you still have the unit stored away in your closet?
System Specs:
| | | | | |
| --- | --- | --- | --- | --- |
| System Architecture | | | Memory | |
| Microprocessor | MOSTEK 6502A | | Standard on system board | 16k |
| Clock speed | 1.79 MHz | | Maximum on system board | 16k |
| Bus type | Atari proprietary | | Maximum total memory | 16k |
| Data bus width | 8 – bits | | Memory speed and type | |
| Address bus width | 16 – bits | | System board memory socket type | Special Cartridge Slot |
| Interrupt levels | N/A | | Number of memory module sockets | 1 slots |
| DMA channels | N/A | | Memory used on system board | |
| Standard Features | | | Disk Storage | |
| ROM size | 10k | | Internal disk and tape drive bays | none |
| Optional math coprocessor | no | | Standard floppy drives | Cassette or 5.25 floppy drive |
| Parallel port type | no | | Optional floppy drives: | external |
| RS232C serial ports | no | | * 5 1/4 inch 160k | yes |
| Mouse ports | no | | * 5 1/4 inch 1.2MB | no |
| UART chip used | N/A | | * 3 1/2 inch 720k | no |
| Maximum speed | N/A | | * 3 1/2 inch 1.44MB | no |
| CMOS real time clock | no | | * 3 1/2 inch 2.88MB | no |
| CMOS RAM | no | | Hard disk controller included | no |
| Video & Graphics | | | Sound | |
| Graphics Processor | 'Antic' | | Sound Interface device | 'Pokey' |
| Screen size – Col x Rows | 40 x 24 | | Sound generation | 4 voices |
| Resolution – Colors/High | 2 / 320 x 192 | | ADSR capable | no |
| Resolution – Colors/Low | 16 / 80 x 192 | | | |
| Max colors | 128 | | Programming language | |
| Sprites or Missiles | 4 | | Built in language | Atari BASIC |
| | | | Built in M L monitor | no |
| Expansion Slots | | | Keyboard Specs. | |
| Total adapter slots | 0 | | Number of keys | 61 membrane type |
| Number of 8/16/32 bit slots | 0 / 0 / 0 | | Upper/lower case | yes / yes |
| I/O | 4-joystick ports | | Keyboard cable length | N/A |
| I/O | 1-RF output to TV | | | |
| I/O | 1-13 pin serial port | | | |
| Physical Specs. | | | Environmental Specs. | |
| * Height | 4 1/2 inches | | Operating voltage @ 60 Hz | 120 VAC |
| * Width | 13 1/2 inches | | Maximum power supplied | 50 Watts |
| * Depth | 11 1/4 inches | | Power supply output – volts | 9 VAC |
| * Weight | 5 pounds 3 ounces | | Power supply output – amps | 3.4 Amps |